Match-IT is sold on annual subscription and priced at £721 per year for a single user system including phone/email support and all software upgrades. Discounts are applied for additional users to a maximum of 60% at 12 users.  A summary of annual prices is shown below.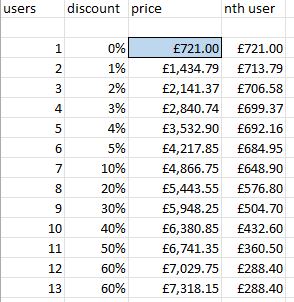 Further discounts are applied if your support usage is light.
End User Licencing Agreement
When your annual licence expires the software becomes read-only but you can still use it indefinitely.  When you apply your new annual licence number you must agree to the terms and conditions in the End User Licencing Agreement (EULA) shown below.
Match-IT Limited, SOFTWARE LICENCE CONDITIONS
IF YOU, YOUR EMPLOYEE OR YOUR AGENT USE THIS PROGRAM, YOU ARE DEEMED TO HAVE ACCEPTED THE TERMS AND CONDITIONS ("CONDITIONS") OF THIS SOFTWARE LICENCE AGREEMENT ("LICENCE") AS SET OUT BELOW. YOU THEREBY BECOME THE LICENSEE. IF YOU DO NOT AGREE TO THESE CONDITIONS, EXIT THE PROGRAM, REMOVE THE INSTALLATION AND PROMPTLY RETURN ALL THE MATERIALS SUPPLIED.
1. PROGRAM & LICENCE
(i) The "Program" means the licensed software programs installed from Match-IT master computer disks or compact disks or downloaded from the WWW. The term "Program" also includes any "Licence Number" provided to you by Match-IT Limited.
(ii) The Licence permits you to install the Program on a single network and install data onto the program for a single set of DATA at any one time (unless, and to the extent that, you have purchased the relevant licence for multiple sites from Match-IT Limited), whether for a company, partnership, group, person or otherwise, in the course of which you may make one copy of the Program in any computer readable format for back-up purposes. The copyright design right and any other intellectual property rights in the source and object codes of this Program vest exclusively in Match-IT Limited ("Match-IT").
(iii) The Program may not be copied without the express consent in writing of Match-IT under such terms as it shall determine. In particular, the Program shall not be installed onto any additional network or onto any personal computer including any notebook or portable computer without an additional user licence, available at separate cost from Match-IT.
(iv) THIS LICENCE IS PERSONAL TO YOU. YOU MAY NOT TRANSFER OR PART WITH POSSESSION OF THE PROGRAMS OR SEEK TO SUB-LICENCE OR ASSIGN THIS LICENCE OR YOUR RIGHTS UNDER IT.
YOU MUST NOT MODIFY OR MERGE (EXCEPT BY A MATCH-IT APPROVED DEALER, OR OTHERWISE WITH WRITTEN CONSENT OF MATCH-IT), REVERSE ENGINEER OR DECOMPILE THE PROGRAM. YOU MUST NOT COPY THE PROGRAM EXCEPT AS EXPRESSLY PROVIDED IN (ii) ABOVE. ANY BREACH OF THIS SUB-CLAUSE (iv) WILL AUTOMATICALLY TERMINATE YOUR LICENCE.
(v) MATCH-IT DOES NOT WARRANT OR GUARANTEE THAT THE PROGRAM PERFORMS ANY PARTICULAR FUNCTION OR OPERATION WHICH MAY BE SUITABLE FOR YOUR REQUIREMENTS OTHER THAN MAY BE DISCLOSED IN RELEVANT DOCUMENTATION PUBLISHED BY MATCH-IT.
(vi) Any "Licence Number" issued to you by Match-IT is personal to you. You may not divulge it to any other party or allow it to be applied to any Match-IT installation except your own.
2. TERMINATION
(i) Match-IT may at its sole and absolute discretion terminate the Licence, in which event Match-IT shall refund to you the cost of the Program.
(ii) This Licence may be terminated by Match-IT without refund if you fail to make payment after 7 days notice of any sums due to Match-IT under this or any other contract with Match-IT.
(iii) Within 14 days of termination of this Licence, you will return to Match-IT the original and all copies and part copies of the Program or furnish to Match-IT a letter attesting to the destruction of the original and any copies. You may terminate this Licence at any time by returning all copies or furnishing such confirmation.
3. DISCLAIMER OF WARRANTY
(i) Match-IT makes no warranties with respect to the Program other than to gaurantee the original disk(s) against faulty materials or workmanship.
(ii) Match-IT will provide during business hours telephone technical advice assistance and support and/or replace any Program not meeting the above gaurantee. In the event of any errors in the Program, Match-IT may at its sole discretion correct the same by "patching" or by new versions. Should Match-IT be unable to rectify any defect in the Program, Match-IT shall terminate this Licence by refunding your money together with the cost of postage after receipt of the Program and any copy from yourself. Match-IT does not warrant or gaurantee you uninterrupted or error free service.
(iii) THE ABOVE WARRANTY EXCLUDES DEFECTS CAUSED BY ACCIDENTS, ABUSE, POOR STORAGE OR HANDLING OR ANY ACT REFERRED TO IN SUB-CLAUSE 1(iv) ABOVE.
(iv) MATCH-IT RESERVES THE RIGHT TO WITHHOLD SUPPORT WHERE PROGRAMS HAVE BEEN MODIFIED OR MERGED BY PERSONS OTHER THAN MATCH-IT, NOTWITHSTANDING THAT SUCH PERSONS MAY BE MATCH-IT APPROVED DEALERS.
4. LIMITATION OF LIABILITY
(i) EXCEPT AS PROVIDED ABOVE, OR AS EXPRESSED BY STATUTE TO BE INCAPABLE OF EXCLUSION OR LIMITATION, NO OTHER REPRESENTATIONS, WARRANTIES, CONDITIONS AND GAURANTEES, EXPRESS OR IMPLIED, INCLUDING BUT NOT LIMITED TO THE IMPLIED WARRANTIES OF FITNESS FOR PURPOSE AND SATISFACTORY QUALITY, ARE MADE WITH RESPECT TO THE PROGRAM BY MATCH-IT.
(ii) MATCH-IT SHALL NOT BE LIABLE FOR ANY DIRECT INDIRECT OR CONSEQUENTIAL LOSS DAMAGE OR EXPENSE (INCLUDING BUT NOT LIMITED TO LOSS OF DATA, USE OR PROFITS) SUFFERED OR ARISING IN ANY MANNER WHATSOEVER OUT OF OR IN CONNECTION WITH THE USE OF THIS PROGRAM OR MATCH-IT'S TERMINATION OF THIS LICENCE FOR ANY REASON WHATSOEVER.
(iii) IN NO EVENT SHALL THE TOTAL LIABILITY OF MATCH-IT (HOWSOEVER ARISING) UNDER THIS LICENCE EXCEED THE AMOUNT PAID BY YOU FOR THE PROGRAM.
5. GENERAL
(i) This Licence does not affect or prejudice your statutory rights nor seek to limit or restrict Match-IT's liability in negligence for death or personal injury. If any of the above provisions or portions thereof are invalid or unenforceable by any judicial or statutory authority, this shall not nullify the remaining provisions of this Licence which shall remain in full force and effect.
(ii) ANY RE-SELLER, DISTRIBUTOR OR DEALER (INCLUDING ANY MATCH-IT APPROVED DEALER) FROM WHOM YOU PURCHASED THE PROGRAM IS NOT APPOINTED OR AUTHORISED BY MATCH-IT AS ITS SERVANT OR AGENT. Such persons have no authority (either express or implied) to enter into a contract or grant any licence or provide any representation, warranty, condition or gaurantee with or to you on behalf of Match-IT, or thereby bind Match-IT. Match-IT cannot be responsible for any modifications or mergers made to the Program by such persons.
(iii) Failure by Match-IT to enforce any of the terms and conditions of this Agreement shall not be construed as a waiver of its rights. Match-IT shall not be under any liability to you in respect of any circumstance beyond its reasonable control.
(iv) This Licence constitutes the entire agreement between the parties relating to the Program and its licensing, and shall be governed and construed in accordance with the laws of England and any dispute under this Agreement or the Program shall be submitted to the exclusive jurisdiction of the English Courts, save where Match-IT otherwise agree. No variation, amendment of or addition to this Licence shall be effective unless Match-IT's prior agreement in writing shall have been obtained. In the event that any provision of these Conditions are held to be void or unenforceable, that shall not affect the remaining provisions which shall remain in full force and effect.
[DOUBLE CLICK, OR HIGHLIGHT, ANYWHERE ON THIS LINE IF YOU AGREE]