The event diary is a categorised time ordered To-Do list. Entries, referred to as tickles, are placed into the diary and removed from it automatically as you do things within the system. The diary will remind you what tasks need to be done or started on any particular date, and it will also remind you when a task is expected to finish. Examples of categories, referred to as event types are: Follow-up Quote, Raise Purchase Order, Start Works Order, Dispatch Sales Order. Altogether, there are over 400 event types recognised.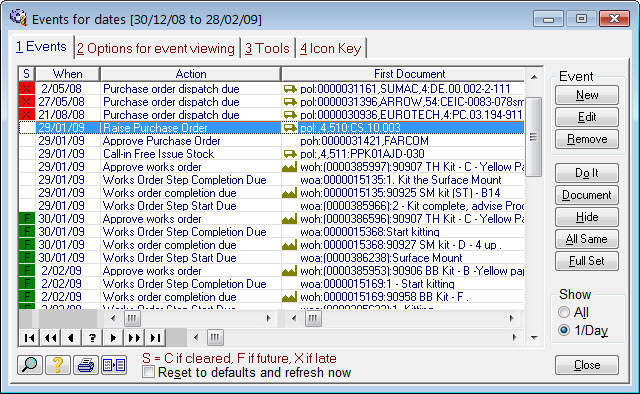 The example above is a diary page showing purchasing and works order related events.
The diary can also be used to navigate the system. The Do It button will take you to the appropriate part of the system to action the event, and with the appropriate document selected. The Document button will show you the detail of the document related to the event, be it a purchase order, sales order, works order or whatever.
In a typical manufacturing company, the total events in the diary for a particular day is likely to be quite large. This would be overwhelming for one person to deal with. It is also inappropriate as individuals are usually only interested in events that are relevant to their role in the company. To cater for this, individuals (or their supervisor) can specify which event categories they are interested in and which ones they don't want to see. The event diary will then only show those event categories to that individual. For example, your sales staff might only want to know about new enquiries and following-up outstanding quotes, and your purchasing staff might only want to know about raising purchase orders and expected supplier deliveries.
The example below shows the event categories selected for purchasing related events.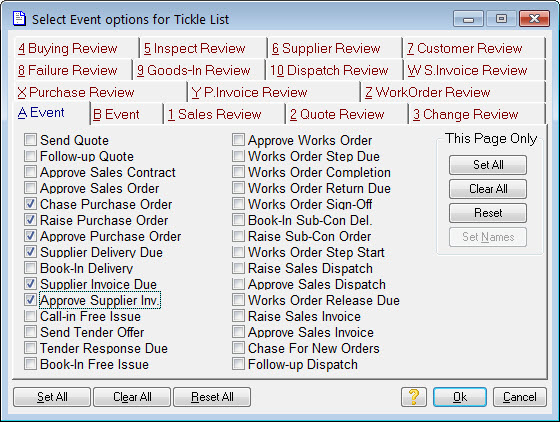 In smaller companies, individuals or supervisors are often concerned with more than one role within the organisation. In this situation you can define which event categories each role needs to know about, and then by changing your role, the diary will show you the events relevant to that role.
See Setting up the diary for more information.